New Music and Paintings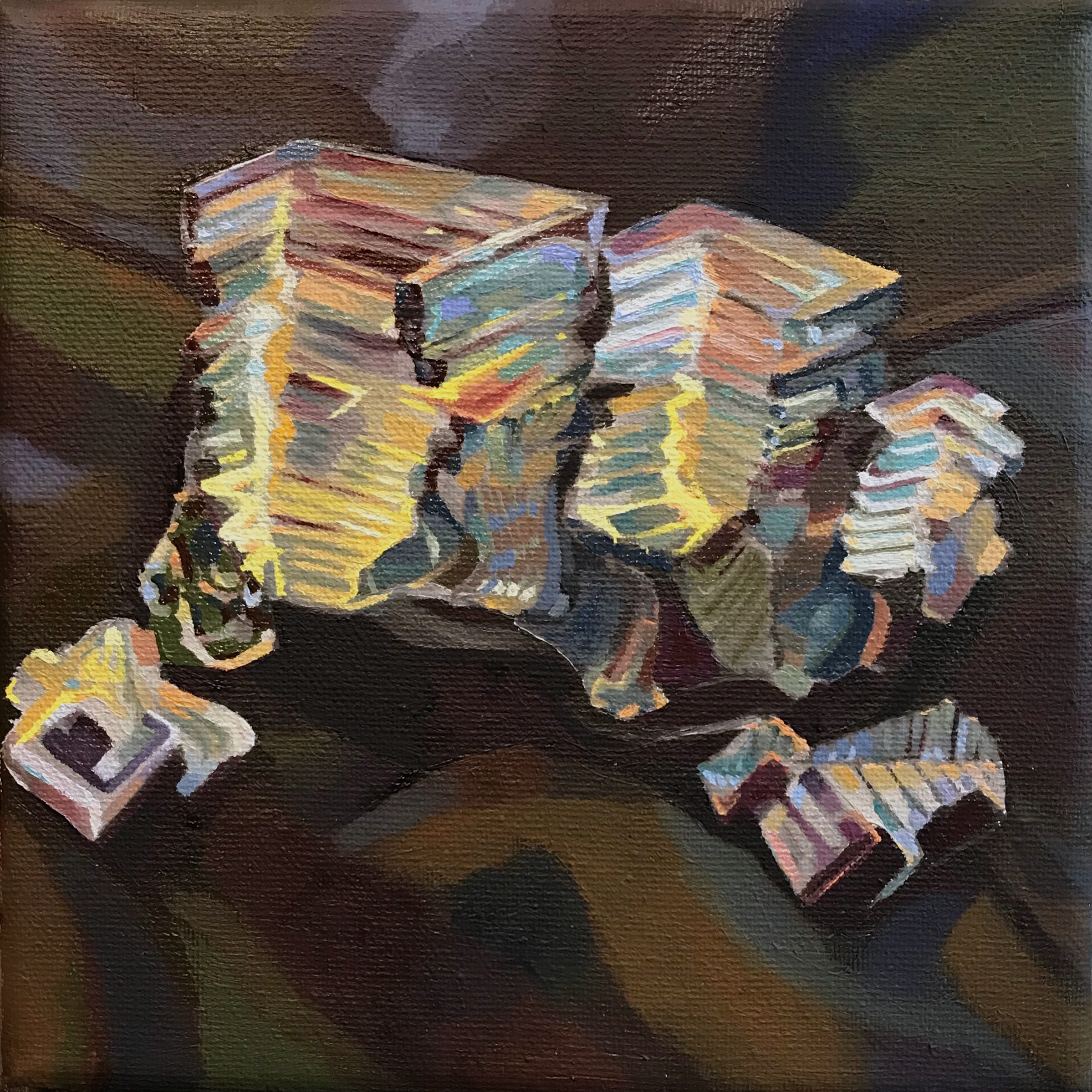 This year, I delved into the world of music production. I really missed a cappella and chorus, and I wanted to keep arranging and singing - the problem was, I no longer had a group to perform with! While I couldn't replace the joy of singing with other people, I still wanted a place to be musically creative. Upon researching, I realized that it wouldn't cost me that much money to purchase my own recording equipment. The microphone, headphones, preamp, cables, and mic stand together cost me around $350, and I used a free digital audio workstation. Arranging and recording were pretty straightforward for me, since I had prior experience, but the producing...that was a steep learning curve. I learned a lot about mixing from YouTube, and eventually I finished my first song, a cover of Eet by Regina Spektor. I like the way it turned out, but obviously there was room for improvement - I needed to record louder to minimize background noise, I needed to leave a half-second or two empty at the beginning to prevent a jarring playback, etc.
My new song, a mashup of Lizzo's Cuz I Love You and Regina Spektor's Fidelity (yes, Regina Spektor again), took me a lot less time and turned out a lot cleaner. I went through a lot of iterations, polling friends and family for feedback, and I'm feeling pretty confident about it at this point. Of course, it can never truly be perfect when one is not willing to pay for an autotune plugin, but I like the realness of no pitch-correction. I like my voice, and if I miss a note, I prefer to re-record, rather than manipulate in the mix.
In other news, I have added my acrylic painting, Bubbles, to the acrylic page. The bismuth crystal painting to the right is an oil painting I did of a bismuth crystal given to me by a friend who crystallized it himself.
Posted on: Novmeber 16, 2019
Continue Reading
6"x6" Reveal: Cat on Quilt
My painting for the annual RoCo 6"x6" is revealed! I was inspired by my cat, Jasper, and this quilt (also featured in Assembly, 2017) that I found at a secondhand store. Click the image for a larger view. Someone bought it on opening night, which certainly boosted my ego. I'm actually amazed someone bought it so soon, considering it was in the back room, in the corner, and at the bottom near the floor. Took me a while to find it in there. I used Golden Open Acrylics for this painting, my first time in a few years painting with acrylics. Of course, now that I work so much with acrylics for my job, I will certainly be experimenting with more acrylic materials.
Open Acrylics are slower-drying than typical acrylics, making them a good choice for slow workers like myself and oil painters who may be looking for an acrylic compromise. In the low humidity of January, I found they dried fairly quickly, and I dismissed them. I found that when I tried them again in February/March, they were slower-drying, and to my pleasant surprise, I could leave them out overnight with no problem. Actually, once I mixed all the colors I would need for this painting and finished my first session, I covered them with plastic wrap and didn't come back to them for a week - still wet! Thicker puddles take forever to dry, so your colors on the palette will stay wet, while your thin strokes on your painting substrate will dry in the span of a few hours (of course, depending on the humidity). While they don't feel or behave at all like oil paints, Open Acrylics eliminate a big drawback for me of using acrylics - drying time.
Posted on: August 12, 2018
Continue Reading
Better Compatibility
You can now reach this website at annaperkinsart.com! Very *professional* of me.
It was a hard decision...but I nixed the sidebar on most of the pages. The top nav is mostly sufficient for this kind of website, and everything looks more modern and simplistic without the extraneous sidebar. I have left it on the (newly created) blog page for organization purposes and as extra navigation for the artwork pages, which are subdivided by medium.
I have *hopefully* fixed the footer such that it stays down at the bottom of the page even when the content is not very tall. Should now be sufficiently compatible across browsers so that it at least doesn't float in the middle of the page over the content (looking at you, IE). This website should work across browsers, but please use Chrome (for my sanity).
I have also improved the mobile compatibility so that the text isn't tiny, and the (rare) sidebars disappear so that they aren't competing with the content.
I am pleased with how my website looks and functions - all that's left to do is fill out the "about" page...the hardest part. Like, should I write it in a professional way? Would that mean it has to be in third person, like I'm writing myself a recommendation? Who is the target audience here, potential customers or my friends? Should I talk about myself as a whole person or just about my artist experiences? Yes, I am procrastinating on answering these questions by finding more coding improvements.
Posted on: June 30, 2018
Continue Reading