Still Life in Oil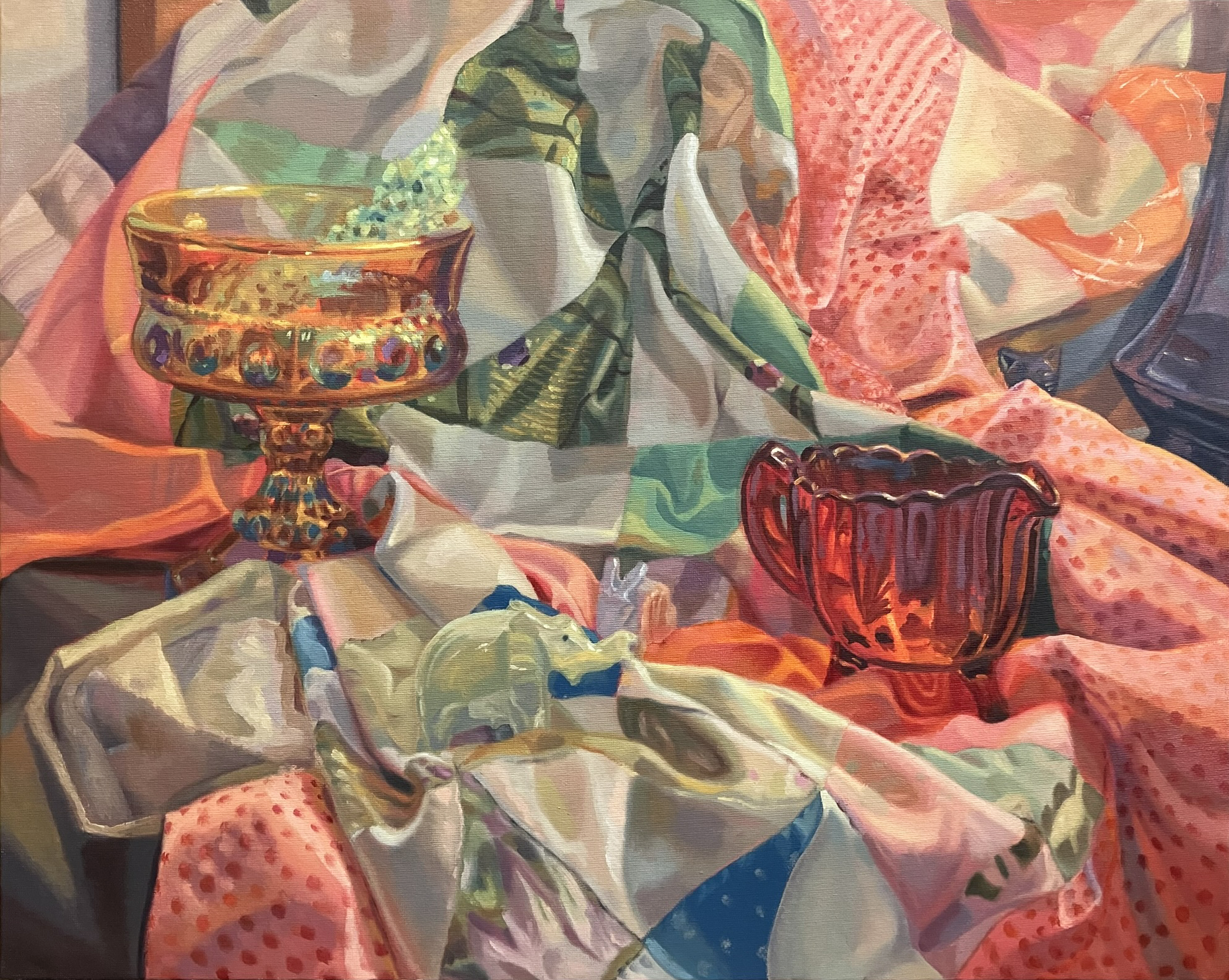 After a visit to a New York City thrift store in 2022, I acquired a few new inspiring still life objects and arranged them into a suitable composition. I started this painting over a year ago and unintentionally put it on hold for about six months, as I focused on my masters of liberal studies classes, traveled, and did a few smaller art projects.
This summer, I picked back up where I left off on this painting, all the while feeling I was far away from the end. At 16" x 20", this canvas was on the medium/large side for me, and my progress felt slow. Eventually, a switch flipped in my brain, and I realized this weekend that I was close to finishing, close to being happy with it and noticing fewer and fewer sections to be reworked. Then, I finished it late last night, having no reason to stay up late on the night before labor day other than that I was so close to being done.
I think a key part of feeling satisfied with your progress in a representational painting is abandoning the pursuit of perfect realism, of noticing the lovely way you've painted something that accentuates the way light is bouncing around, the way fabrics are folded - drawing the viewer's eyes to the things you liked about your composition in the first place. There is, of course, a delight in succeeding at rendering something well and true to the reference, but this can't be my only goal, as there would be no reason for it to be a painting instead of a photograph.
Posted on: September 4, 2023
Continue Reading
New BIG Acrylic Painting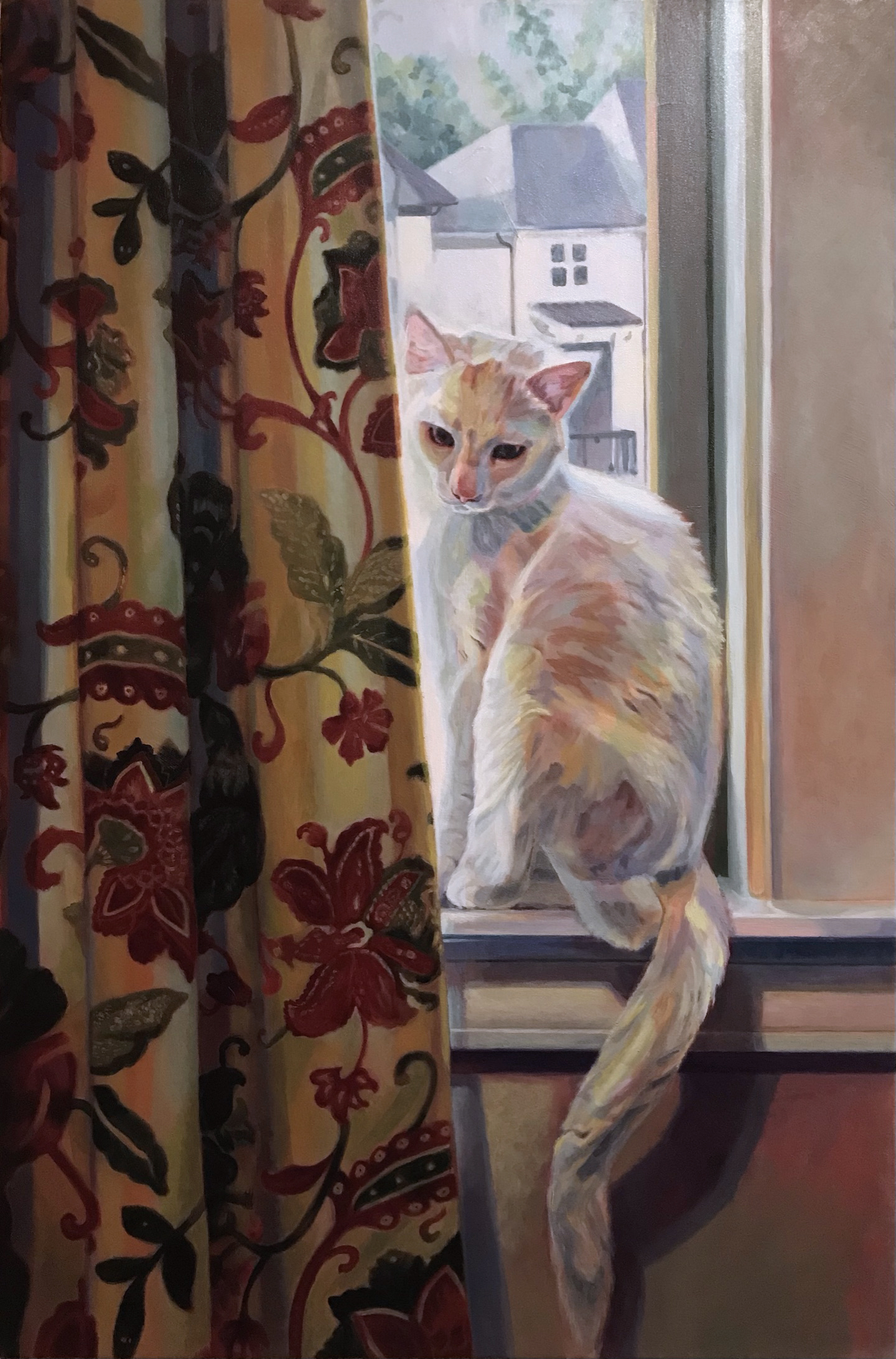 In 2021, I decided it was about time to make a large acrylic painting. My mom took a lovely photograph of our cat Jasper that inspired me both with its subject and indoor/outdoor light composition. With acrylic, I find I use a lot more layers, both because the paint is more transparent than oils and because I know it will dry faster and I can paint over it on the same day. The layering helped achieve the fluffiness of the cat's fur. Like usual, I spent quite a bit of time on the patterned fabric.
This painting and Rachael were featured in the Golden Employee Art Show along with many other lovely paintings by my coworkers.
Now that I've got a proper large easel, I think more large paintings will be coming (after many hours of labor over several months, of course)!
Posted on: January 30, 2022
Continue Reading
New Song: Endlessly
My lastest a cappella cover is Endlessly by Muse. Arranged, performed, and mixed by me, it took me quite a while, but I am very proud of it. I worked on my range at the top end but especially at the low end in order to actually sing my arrangement. I thought I was picking the "simplest" song by Muse, but I managed to make it exceedingly complex. If a group wanted to sing this arrangement, I would have to rework it for sure to make it more streamlined and...possible to sing live. After countless hours of mixing, it is complete!
Check out the rest of my music on my Music page.
Posted on: October 31, 2020
Continue Reading
© 2006-2023 AnnaNeo/Anna Perkins Art